RONAN BROWNE: THE WYND YOU KNOW

Ronan Browne: uilleann pipes

Although Ronan Browne's piping is well known among other players of the instrument and to those who are familiar with his previous CD "The South West Wind" and his work with the band Cran, it may be safe to say that he hasn't acquired the stature of a Paddy Keenan or a Liam O'Flynn. Let's hope that this new recording helps him get a well deserved wider recognition. Browne's piping is extremely skillful and inventive, his sometimes unconventional regulator work being especially notable. This new recording will be especially appreciated by lovers of airs, of which there are no less than seven  out of the fourteen tracks. Included are classics like "Were You at Carrick?," as well as the beautiful Donegal tune "Paddy's Rambles through the Park," played as a duet with Kevin Glackin (fiddle), with a harmonium accompaniment by Triona Ni Dhomhnaill. Other duets with Glackin include a set of characteristic Donegal tunes, an highland and two reels, and a set of jig on which Browne plays flute, both tracks featuring impressively tight playing.

Rating: *** 1/2

Price: $21.99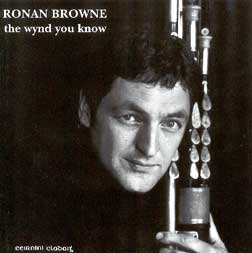 Contents:

1. Air: Eilionóir a Rúin

2. Hop Jigs: As Pat came over the Hill / The Dusty Miller

3. Air: The Bright Lady

4. Reels: The Swallow's Tail / The Heather Breeze

5. Highland & Reels: The Cat that Kittled in Jamie's Wig / The Errigal Reel / The Black Mare of Fanad

6. Air: Paddy's Rambles through the Park

7. Slides: Cheer up Old Hag / Cailín an Tí Mhóir

8. Air: An Raibh Tú ag an gCarraig?

9. Single Jigs: Ask My Father / Pat Ward's Jig

10. Air: Caoineadh Úi Néill

11. Air & Reels: The Green Fields of America / The Smoky House / Molly Will You do It? / The Connachtman's Rambles

12. Air: If I were a Blackbird

13. Reels: The Pigeon on the Gate / Cal Callaghan's Reel

14. Air: The Lament for The Wild Geese