VARIOUS: THE DRONES AND THE CHANTERS VOL. 2

A superb sequel to the classic collection of solo Irish piping first produced in the early 1970s, this installment features Liam O'Flynn, Sean Og Potts, Robbie Hannan, Gay McKeon, Ronan Browne, Mick O'Brien, and Joe McLaughlin.

Rating: ****

Price: $21.99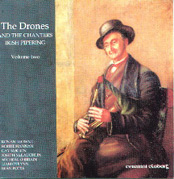 Contents:

Robbie Hannan

1. Peter Street / The Silver Spear / The Dublin Reel

2. Moll Rua (Red Moll) / An Phis Fhliuch

3. Jenny's Wedding / The Pure Drop

Gay McKeon

4. The Ace & Deuce of Pipering

5. The Monaghan Jig / Francis Aucoin

6. Miss Ramsay / James Byrne's Reel

Joseph McLaughlin

7. The Bright Lady

8. The Lark in the Morning

9. The Bee's Wing

Seán Potts

10. The Hollybush / Miss Monaghan

11. Australian Waters / When Sick Is It Tea You Want?

12. The College Groves

Liam O'Flynn

13. Máire Ní Mhongáin

14. Bonnie Ann / The West Wind

Mícheál Ó Briain

15. An Rógaire Dubh (The Black Rogue ) / Na Ceannabháin Bhána (The Fair Canavans) / Páidín Ó Raifeartaigh

16. The Beauty Spot / Farewell to Connacht

17. Nóra Críonna

Ronan Browne

18. Poll Ha'penny

19. The Old Bush / The Braes of Busby

20. Port na bPúcaí (The Tune of the Fairies)