Contents:

1. Hornpipes:  Poll Ha'penny / Scully Casey's

2. Reels: Colonel Frazer / Toss the Feathers

3. Jigs: Banish Misfortune / Kitty's Rambles

4. Reels: Jenny's Welcome to Charlie / My Love is in America

5. Single Jig

6. Reels: The Salamanca / The Green Groves of Erin

7. Jigs: The Gallowglass / The Legacy

8. Reels: The Liffey Banks / The Shaskeen / The Boys of Ballisadare / The Woman of the House / Tansey's Favourite / The Graf Spee / Ballinasloe Fair

9. Air: The Dear Irish Boy

10. Reel: Kitty's Gone a-Milking

11. Waltzes: Unknown / Mrs. Kenny

12. Reels: Farewell to Miltown / The Star of Munster

13. Jigs: Unknown / The Mist on the Meadow / The Wandering Minstrel / The Drummer

14. Set Dances: The Ace and Deuce of Pipering / Rodney's Glory

15. Reel: Bonny Kate

16. Reel: The Laurel Tree

17. Jigs: The Gold Ring / The Legacy

18. Reels: Eileen Curren / The Star of Munster / The Moving Bogs / Rolling in the Barrel / The Moving Bogs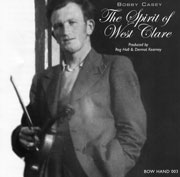 BOBBY CASEY: THE SPIRIT OF WEST CLARE

Bobby Casey: fiddle, tinwhistle

Tommy McCarthy: concertina

Andy O'Boyle: fiddle

Paddy Breen: flageolet

Sean Casey: mandolin

Bobby Casey (1926-2000), like John Doherty or Denis Murphy, was one of those musicians whose name immediately brings to mind a particular style of traditional music, in this case that of West Clare. As such, his music has been much sought after, but very little has been recorded for commercial purposes, and whatever was produced on LP or cassette has long been unavailable. This brand new CD, compiled from recordings made in London in the 1960s by Bill Leader and Reg Hall, should answer the prayers of those whose search had been frustrated until now. Hopefully, it will also bring Casey's extraordinary music to the attention of a new generation of devotees. This is a fascinating and precious document, in the same vein as Doherty's "The Floating Bow," or Murphy's "The Star Above the Garter" (also featuring Murphy's sister Julia Clifford). Most of the tracks are fiddle or tinwhistle solos, with a couple of duets and one trio with other notable London Irish musicians, including Bobby's son Sean. It has the same kind of feeling of intimacy that suggests a musician comfortable with his surroundings and, Reg Hall writes, "playing his heart out for his friends," which Casey used to do regularly in London Irish pubs. Some of the longer medleys of tunes also convey a sense of that kind of setting, rather than the confines of formal recording studio. The playing is robust, "reeking of rural Ireland," as Hall puts it, but the artistry is unmistakable, whether in the clever turns of phrase and the lush ornamentation of the flowing reels and jigs, or in the poignancy of Casey's air playing (The Dear Irish Boy). A great tribute to Casey's music.

Rating: **** 1/2

Price: $26.99




Recommended